You are on the Project Communications Management Plan download page.
To download the Project Communications Management Plan Template


and check your email account for the download link.
Thank you very much for your interest, visiting my website and downloading my template.
Please leave a comment with your improvement suggestions below, follow me on Facebook, LinkedIn or Twitter and don't forget to add the site to your favorite template download sites.
[yasr_overall_rating]
---
How to Communicate Project Status?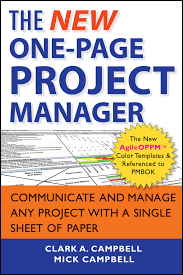 Many projects do not produce regular progress reports or regular status reports. This is not acceptable and the main reason for the omission is often based on the fact that project managers are focused differently. A large part of their tasks are simply not fulfilled often with the justification that they would be under great pressure and can not write reports for lack of time.
If a project manager takes his job serious, he will constantly monitor, analyze, and control the scope, time, cost, risk, quality, etc. He will collect data and often anyway enters it into software and evaluates it. Basically, the report could be almost done at this moment. Even if no expensive software is used, data can easily be collected in Excel spreadsheets, evaluated and presented in a clear form. this isn't rocket science.
A great help to realize this is provided in the Book "The New One Page Project Manager" by Clark A. and Mick Campbell.
Amazon book description:
The New One Page Project Manager demonstrates how to efficiently and effectively communicate essential elements of a project's status. The hands of a pocket watch reveal the time of day without following every spring, cog, and movement behind the face. Similarly, an OPPM template reduces any project — no matter how large or complicated — to a simple one-page document, perfect for communicating to upper management and other project stakeholders. Now in its Second Edition, this practical guide, currently saving time and effort in thousands of organizations worldwide, has itself been simplified, then refined and extended to include the innovative AgileOPPM™.

This Second Edition includes new material and updates including an introduction to the ground-breaking AgileOPPM™ and an overview of MyOPPM™ template builder, available on-line,
Includes references throughout the book to the affiliated sections in the Project Management Body of Knowledge (PMBOK®),
Shows templates for the Project Management Office (PMO)

This new and updated Second Edition will help you master the one-page approach to both traditional project management and Agile project management.
The New One Page Project Manager is a great help and worth every penny. Without question, each project manager will want to customize the templates, nevertheless, the book and in particular of course the associated Excel template is immediately usable.
---