You are on the Project Cost Management Plan download page.
To download the Project Cost Management Plan

and check your email account for the download link.
Thank you very much for your interest, visiting my website and downloading my template.
Please leave a comment with your improvement suggestions below, follow me on Facebook, LinkedIn or Twitter and don't forget to add the site to your favorite template download sites.
---
Interested to Know How to Manage Project Cost the Right Way?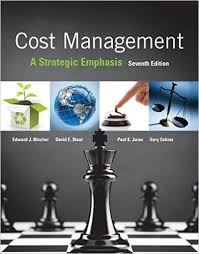 Well, obviously you want to know, otherwise you wouldn't be here and getting information about cost management. Managing the cost of a project is often one of the biggest challenges. Medium-sized companies make many mistakes in cost-cutting. Result: The results are below expectations. Until today in the role of a construction project manager are often engineers, which is of course absolutely okay in principal. However, their focus is very often on technical project realization. That project management, however, primarily requires strategic thinking, is often considered a luxury and neglected.
To solve this problem and to implement the strategic approach, Edward Blocher, David Stout, Paul Juras and Gary Cokins have published their excellent book "Cost Management: A Strategic Emphasis 7th Edition".
At Amazon, the book is one of the best-selling books on cost management and is described as follows:
Cost Management: A Strategic Emphasis, by Blocher/Stout/Juras/Cokins is dedicated to answering the question: Why Cost Management? Blocher et al. provide the cost-management tools and techniques needed to support an organisation's competitiveness, improve its performance, and help the organisation accomplish its strategy. The text is written to help students understand the broader role of cost accounting in helping an organisation succeed – and not just the measurement of costs. While the text does include coverage of traditional costing topics (e.g., job-order costing, process costing, service-department cost allocations, and accounting for joint and by-products), its primary strength is the linkage of these topics, as well as more contemporary topics, to an organisation's strategy. This message is reinforced by a dynamic author team, all four of whom have close ties to current cost management practice.
---
---