You are on the Post Project Review Template download page.
If you accidentally closed the email input window or to re-enter your email,

and check your email account for the download link.
Thank you very much for your interest, visiting my website and downloading my template.
Please leave a comment with your improvement suggestions below, follow me on Facebook, LinkedIn or Twitter and don't forget to add the site to your favorite template download sites.
---
What is Agile Project Management?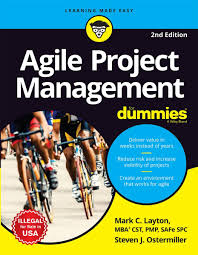 Although the Agile method is not really new anymore and actually goes back to the 50s of the previous century, we are currently experiencing a hype about agile project management. Terms such as Scrum and Agile are nowadays part of the vocabulary of every project manager, but the understanding about it is still not very strong.
To understand the methodology and ideas the book Agile Project Management For Dummies by Mark C. Layton and Steven J. Ostermiller really helps.
Amazon book description:
Agile project management is a fast and flexible approach to managing all projects, not just software development. By learning the principles and techniques in this book, you'll be able to create a product roadmap, schedule projects, and prepare for product launches with the ease of Agile software developers. You'll discover how to manage scope, time, and cost, as well as team dynamics, quality, and risk of every project.

As mobile and web technologies continue to evolve rapidly, there is added pressure to develop and implement software projects in weeks instead of months—and Agile Project Management For Dummies can help you do just that. Providing a simple, step-by-step guide to Agile project management approaches, tools, and techniques, it shows product and project managers how to complete and implement projects more quickly than ever.

Complete projects in weeks instead of months
Reduce risk and leverage core benefits for projects
Turn Agile theory into practice for all industries
Effectively create an Agile environment

Get ready to grasp and apply Agile principles for faster, more accurate development.
Like almost all books of the Dummies series Agile Project Management For Dummies explains in a simple easy to understand language and very clearly the basics and practical application.
---