Thanks for your interest in Project Procurement Management (PMBOK®). You find hereafter the definition and the processes involved in Project Procurement Management and free downloadable templates. I developed the templates over time from real life documents. You find the download links in the download area of this page.
A solid Project Procurement Management Plan is very important. The Project Procurement Management Plan is a component of the Project Management Plan. It describes how a team will acquire goods and services from outside of the performing organization.
Definition of Project Procurement Management
The PMI™ defines Project Procurement Management as:
Project Procurement Management are the processes necessary to purchase or acquire products, services, or results needed from outside the project team to execute a project. (PMBOK® Guide)
Project Procurement Management Processes
The PMI™ defines the processes as follows:
Plan Procurement Management

Plan procurement management is the process of documenting project procurement decisions, specifying the approach, and identifying potential sellers.

Conduct Procurement

Conduct procurement is the process of obtaining seller responses, selecting sellers, and awarding contracts.

Control Procurement…

… is the process of managing procurement relationships, monitoring contract performance, making changes and corrections as appropriate, and closing out contracts.
---
How to Manage Project Procurement?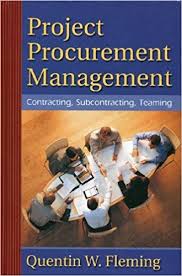 Efficient Project Procurement Management surprisingly is an area that gives some project managers a bit of a hard time, while it is recognized being a major determinant of project success. Failure to plan and develop the best suitable procurement approach is among the primary causes of project dissatisfaction or failure. Why is this so?
Since you are on this web page, you obviously must be interested in project procurement management. Therefore, I would like to draw your attention to a book that I have bought myself a while back. It is the book Project Procurement Management – Contracting, Subcontracting, Teaming by Quentin W. Fleming.
Amazon Book Description:
Here's what five project management instructors at the University of California-Irvine have said about Project Procurement Management:

Quentin's book provides invaluable guidance for project managers seeking to ensure that vendors/sellers will perform as required. To establish proven processes and achieve high quality project outcomes, read this authoritative book.– JAN BIRKELBACH, PMP Management consultant & trainer

Thanks to Quentin Fleming this book provides a comprehensive treatment of all aspects of procuring goods and services for projects. I recommend all project managers and their sponsors make this book a readily accessible desk reference.– DAVE JACOB, Principal, Doren Associates

This book provides a thorough discussion of procurement concepts that every project manager should know. The very readable style helps clarify the procurement process and its application to everyday projects.– JANICE PRESTON, PMP, Principal, Pacifica Companies

Fleming's latest book affords us an opportunity to view the procurement process from the perspective of an expert in the field. He reveals simple truths about an otherwise complex subject in a straight-for¬ward, no-nonsense style that is rich with practical suggestions and insightful commentary.– FRED SAM ELIAN, PMP Senior Vice President, Hill International

This book unveils the mystery of contracts and procurement. It is concise and easy to understand. A good reference book for the procurement process, as well as a trouble shooting guide for contracting. CYNDI SNYDER, PMP Principal, VistaPerformanceGroup.com. –QUENTIN FLEMING is an author and a management consultant. He developed two new courses in the project management series for the University of California at Irvine: project procurement management and earned value project management.
---
Download area Project Procurement Management Templates
Free Project Procurement Management Plan Template
| | |
| --- | --- |
| Name: | Project Procurement Management Plan Template |
| Prepared by: | Marc Arnecke, PMP |
| Subject: | The Project Procurement Management Plan is a component of the Project Management Plan that describes how a team will acquire goods and services from outside of the performing organization. |
| Created: | 05/11/2014 |
| Last Modified: | 03/01/2018 |
| Link: | download Project Procurement Management Plan Template |
More templates are waiting here for you: