Thanks for your interest in Project Risk Management (PMBOK®). You find the definition and the processes involved in Project Risk Management and free downloadable templates on this page.
The Project Risk Management Plan is a component of the Project Management Plan that describes how risk management activities will be structured and performed.
Definition of Project Risk Management
The PMI™ defines Project Risk Management as:
Project Risk Management includes the processes of conducting risk management planning, identification, analysis, response planning, and controlling risk on a project. The objectives of project risk management are to increase the likelihood and impact of positive events, and decrease the likelihood and impact of negative events in the project.
Project Risk Management Processes
The PMI™ defines the processes as follows:
Plan Risk Management

Plan risk management is the process of defining how to conduct risk management activities for a project.

Identify Risks

Identify risks is the process of identifying individual project risks as well as overall sources of project risk, and documenting their characteristics.

Perform Qualitative Risk Analysis

Perform qualitative risk analysis is the process of prioritizing individual project risks for further analysis or action by assessing their probability of occurrence and impact as well as other characteristics.

Perform Quantitative Risk Analysis

Perform quantitative risk analysis is the process of numerically analyzing the combined effect of identified individual project risks and other sources of uncertainty on overall project objectives.

Plan Risk Responses

Plan risk responses is the process of developing options, selecting strategies, and agreeing on actions to address overall project risk exposure, as well as to treat individual project risks.

Implement Risk Responses

Implement risk responses is the process of applying agreed-upon risk response plans.

Monitor Risks

Monitor risks is the process of monitoring the implementation of agreed-upon risk response plans, tracking identified risks, identifying and analyzing new risks, and evaluating risk process effectiveness throughout the project.
---
How to Manage Project Risk?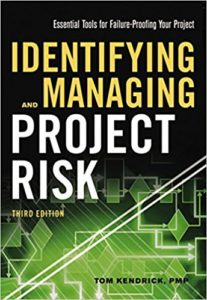 Project Risk Management is certainly one of the areas that deserves a lot of attention. Yet many project managers believe it would be sufficient to just add a certain percentage to their cost estimates to serve as a contingency. Not only that, of course, this is not satisfactory risk evaluation, the percentage is often pluck out of the air.
Since you are here, you are obviously concerned about project management, or respectively project risk management. I therefore would like to recommend you reading Identifying and Managing Project Risk: Essential Tools for Failure-Proofing Your Project by Tom Kendrick, PMP.
Amazon book description:
Projects – especially complex ones – are inherently risky. Between time constraints, technical challenges, and resource issues, things can easily go wrong-making the identification of potential risks an essential component of every project manager's job. Fully updated and consistent with the Risk Management Professional (RMP) certification and the Guide to the Project Management Body of Knowledge (PMBOK®), Identifying and Managing Project Risk remains the definitive resource for project managers seeking to guard against failure.

Drawing on real-world situations and hundreds of examples, the book outlines the risk management process and provides proven methods for project risk planning. Readers will learn how to use high-level risk assessment tools, implement a system for monitoring and controlling projects, and properly document every consideration. Analyzing aspects such as project scope, available resources, and scheduling, the third edition also offers fresh guidance on program risk management, qualitative and quantitative risk analysis, simulation and modeling, and significant "non-project" risks. This practical book will help readers eliminate surprises and keep projects on track.
I am glad to have bought the Identifying and Managing Project Risk: Essential Tools for Failure-Proofing Your Project . The subject is explained to the detail on one hand and nevertheless written in understandable language. For me a clear MUST HAVE for all project managers.
---
Download Area Project Risk Management Templates
Download the Project Risk Management Plan Template
| | |
| --- | --- |
| Name: | Project Risk Management Plan Template |
| Prepared by: | Marc Arnecke, PMP |
| Subject: | The Project Risk Management Plan is a component of the Project Management Plan that describes how risk management activities will be structured and performed. |
| Created: | 05/11/2014 |
| Last Modified: | 27/01/2018 |
| Link: | download Project Risk Management Plan Template |
---
Download the Project Risk Register Template
| | |
| --- | --- |
| Name: | Project Risk Register Template |
| Prepared by: | Marc Arnecke, PMP |
| Subject: | The Risk Register was created and used to record and update the results of risk analysis and risk response planning. The Risk Register includes a dashboard that provides overview over the current situation. |
| Created: | 05/11/2014 |
| Last Modified: | 04/06/2018 |
| Link: | download Project Risk Register Template |
More templates are waiting here for you: