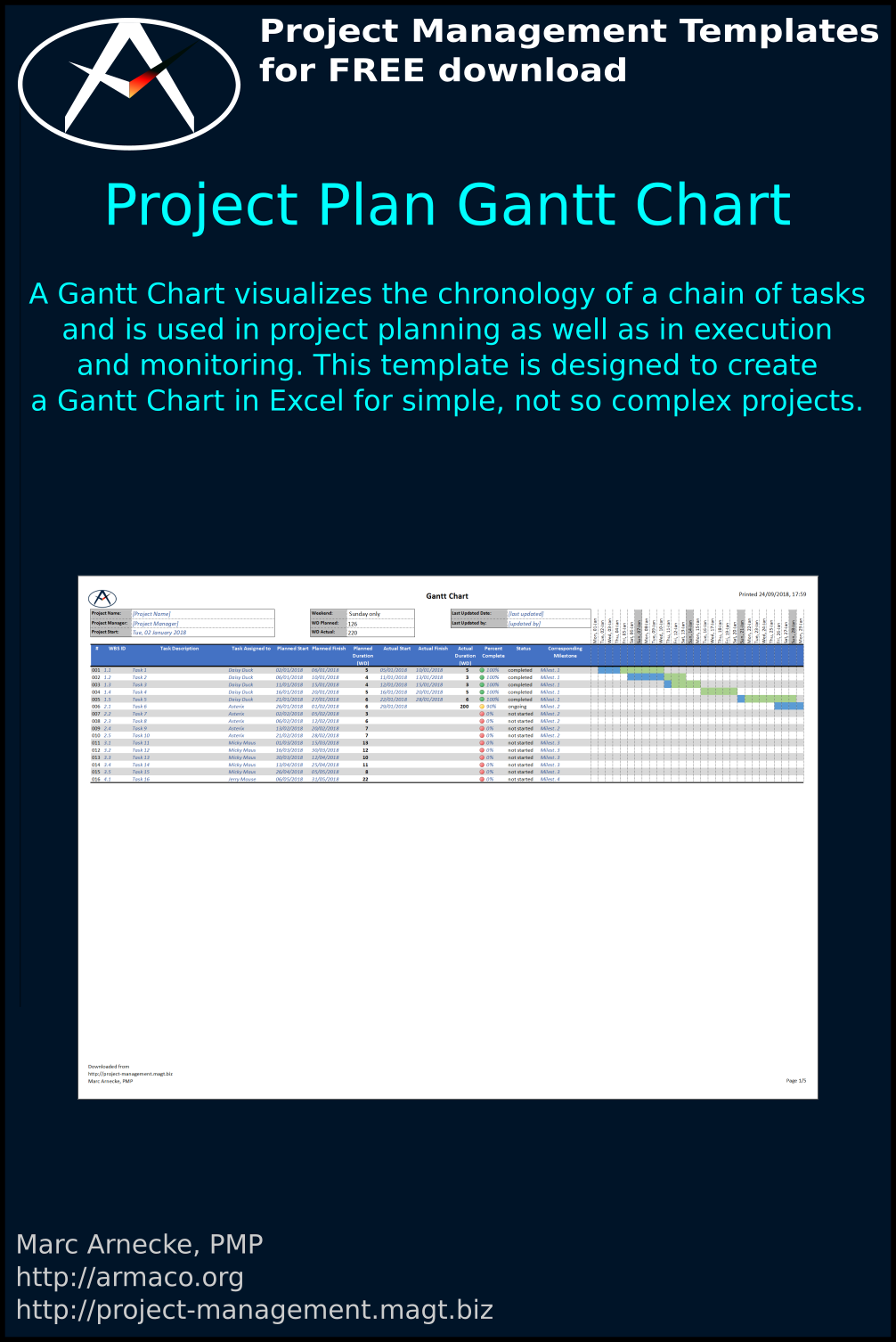 Project Plan - Gantt Chart Template
This Project Plan - Gantt Chart Template is designed in Excel for simple project scheduling. The Project Plan - Gantt Chart Template visualizes the chronology of a chain of tasks and is used in project planning as well as in execution and monitoring. This easy to use Excel Gantt Chart Template can save you plenty of time and will help you to keep overview about the sequences and progress of your project activities. All you need to do is to download the file and to enter your tasks and dates to create an outstanding Gantt Chart.
Prepared by: Marc Arnecke, PMP
Created: 17/10/2015
Last Modified: 23/09/2018
File Type: MS Excel

How to use this free Excel Gantt Chart Template?
This Gantt Chart Template is made as easy to use as possible and is suitable for all different sorts of projects. The Gantt Chart Template has a rich set of features and is set up and ready for you to enter the details of your project.
A detailed description how to use this Excel Gantt Chart Template is included in the file.
Step 1 - Enter Basic Project Information
When you start using this Gantt Chart Template, make a few entries and/or definitions in the header and on the configuration sheet. I.e.:
Project name,
Project manager, and
The Project start date.
Choose your weekend definition,
Define the public holidays, and
Enter the number of workdays planned until project completion.
The number of actual workdays is counted automatically then.
Step 2 - Enter Task Details

Next step enter your project tasks including the following details:
The so called WBS ID,
The task name,
The responsible person,
The planned start date,
The planned completion date, and
The corresponding milestone (if any).
The Excel Gantt Chart Template will automatically calculate the resulting number of planned working days, and it highlights the planned task period in the calendar area on the right hand side in blue.
Step 3 - Update Activity Details and Re-Plan

Now that your project is underway, check and update on daily basis.
Enter the actual task start date,
Update daily the completion percentage, and
Enter the actual completion date once the task is completed.
The Excel Gantt Chart Template will automatically calculate for you the actual duration in working days, and changes the task status from "not started", through "ongoing" to "completed". Further the actual execution period will be highlighted green in the calendar area on the right side.
This Excel Gantt Chart Template is designed so that you may easily filter the tasks as needed. For example, you could hide all completed tasks and display only those that need to start this week.
Step 4 - Add More Tasks
Step 4a - New Task at the End of the List

In the course of the progressing project, you may want to add more activities. Your template is designed so that you can simply add additional lines. You just need to jump to the first empty line below the table and start filling in the WBS ID of the new activity. In order to maintain your flexibility, I deliberately refrained from protecting the table with a password. Please ensure that you only change columns whose font color is not set to "black". Columns, or the cell contents of columns with black font color are calculated automatically. All formulas, functions and formatting are automatically carried over to the new row.
Step 4b - Squeeze in Task in the Middle of the List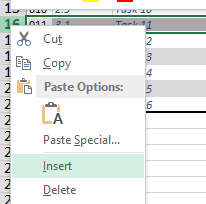 You can even add a new task between existing entries. Just click on the row header with the right mouse button and click on "insert". Existing entries are automatically moved, recalculated and formulas, functions and formatting are copied. Please note that this affects the consecutive numbering in the first column of the table.
More Schedule Management Templates
Project Management Templates in Different Knowledge Areas
Software Recommendation
My Excel Gantt Chart Template is well suited for any kind of not too complicated project, whose number of tasks is manageable, and whose tasks and activities are not too complex. As long as it is required to only represent the activities in the correct order, you can use my Excel Gantt Chart Template. However, it reaches its limits when it is necessary to group several activities to tasks, or to link activities in some other way or allocate resources.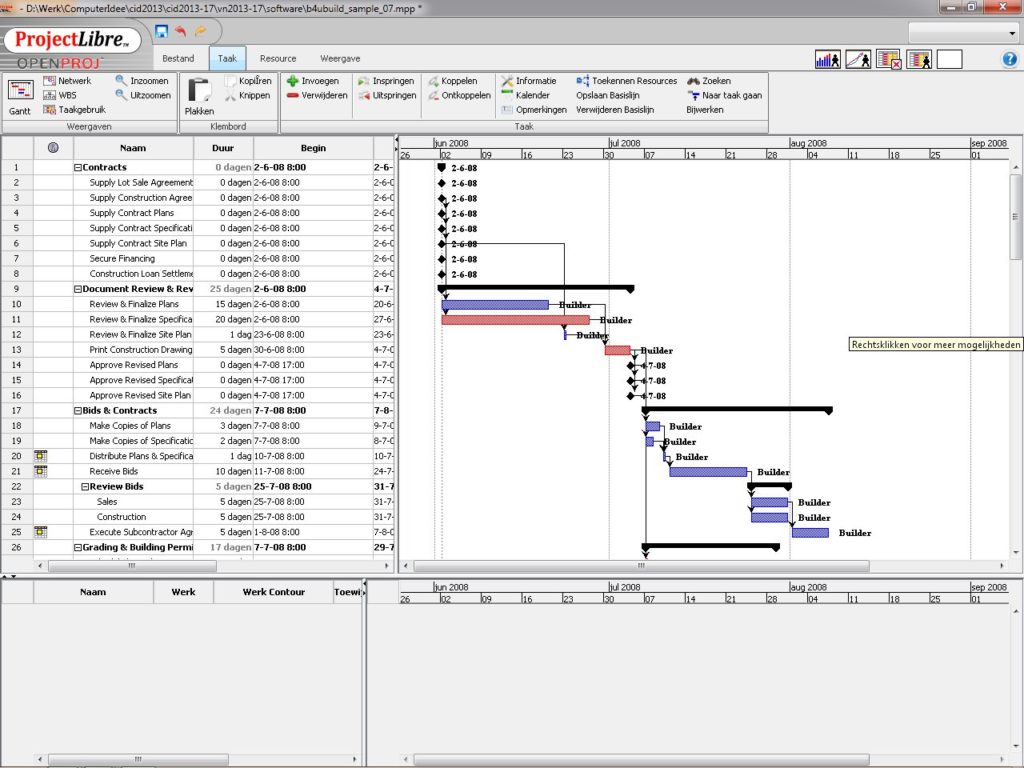 In that case the usage of specific software is recommendable. Such software allows creation of even more complex plans and provides additional functionality. Such functions can only be reproduced to a limited extent in Excel and this would be overshot.
Depending on the requirements and the project complexity, there are software solutions that range from free software to very expensive solutions. Such software often allows the creation of several projects, which can be linked with each other. This makes sense, in particular, when projects are dependent on shared resources.
A cost-neutral solution is the use of ProjectLibre. ProjectLibre is project management software, an alternative to Microsoft Project and downloaded already over 3,000,000 times. ProjectLibre is compatible with Microsoft Project 2003, 2007 and 2010 files. You can simply open them on Linux, Mac OS or Windows.
The software is open source and can be downloaded from the internet.
Features
Microsoft Project replacement,
Gantt Chart,
Earned Value Costing,
PERT Charts,
Project Management software,
RBS Chart,
New version of OpenProj.