You find the definition and the processes involved in Project Scope Management (PMBOK®) and free downloadable templates on this page.
The Project Scope Management Plan is a component of the Project Management Plan that describes how the scope will be defined, developed, monitored, controlled, and verified.
Definition of Project Scope Management
The PMI™ defines Project Scope Management as:
Project Scope Management includes the processes required to ensure that the project includes all the work required, and only the work required, to complete the project successfully. Managing the project scope is primarily concerned with defining and controlling what is and is not included in the project. (PMBOK® Guide)
Project Scope
Project scope is the work that needs to be accomplished to deliver a product, service, or result with the specified features and functions.
Product Scope
Product scope are the features and functions that characterize a product, service, or result.
Project Scope Management Processes
Definition of the processes by PMI™:
Plan Project Scope Management

Plan project scope management is the process of creating a scope management plan that documents how the project and product scope will be defined, validated, and controlled.

Collect Requirements>

Collect requirements is the process of determining, documenting, and managing stakeholder needs and requirements to meet project objectives.

Define Scope

Define scope is the process of developing a detailed description of the project and product.

Create WBS

Create WBS is the process of subdividing project deliverables and project work into smaller, more manageable components.

Validate Scope

Validate scope is the process of formalizing acceptance of the completed project deliverables.

Control Scope

Control scope is the process of monitoring the status of the project and product scope and managing changes to the scope baseline.
---
Project Scope Management – How to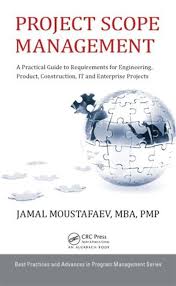 The definition is given above and the processes are listed, the question that arises now is how project scope is best and most effectively managed. Following my own experience as a contractor project manager, scope management is one in which many mistakes happen during the initiation phase of a project. This is a trap that is hard to come out of. By signing a contract, the contractor committed himself to deliver certain products and services within a time frame and at a certain price.
Jamal Moustafaev has described in his book Project Scope Management how project scope can best be managed.
AMAZON book description:
Incomplete or missed requirements, omissions, ambiguous product features, lack of user involvement, unrealistic customer expectations, and the proverbial scope creep can result in cost overruns, missed deadlines, poor product quality, and can very well ruin a project.

Project Scope Management: A Practical Guide to Requirements for Engineering, Product, Construction, IT and Enterprise Projects describes how to elicit, document, and manage requirements to control project scope creep. It also explains how to manage project stakeholders to minimize the risk of an ever-growing list of user requirements.
Apparently it seems to be quite common for certain recurring problems to occur, and it does not seem to matter in which part of the world the project is. I recently described some serious problems in one of my blog articles and scope management related problems are a serious issue.
Project Scope Management is a book written in good understandable language and is very helpful. I absolutely recommend this book to you if you are interested in avoiding problems in managing scope.
---
Download Area Project Scope Management Templates
Download the Project Scope Management Plan Template
| | |
| --- | --- |
| Name: | Project Scope Management Plan Template |
| Prepared by: | Marc Arnecke, PMP |
| Subject: | The Project Scope Management Plan is a component of the Project Management Plan that describes how the scope will be defined, developed, monitored, controlled, and verified. |
| Created: | 05/11/2014 |
| Last Modified: | 16/01/2018 |
| Link: | download Project Scope Management Plan Template |
---
Download the Project Requirements Management Plan Template
| | |
| --- | --- |
| Name: | Project Requirements Management Plan |
| Prepared by: | Marc Arnecke, PMP |
| Subject: | The Project Requirements Management Plan is a component of the Project Management Plan that describes how requirements will be analyzed, documented and managed. |
| Created: | 05/11/2014 |
| Last Modified: | 25/06/2018 |
| Link: | download Project Requirements Management Plan |
---
Download the Work Breakdown Structure Template
| | |
| --- | --- |
| Name: | Work Breakdown Structure Template |
| Prepared by: | Marc Arnecke, PMP |
| Subject: | The Work Breakdown Structure (WBS) is a hierarchical decomposition of the total scope of work to be carried out by the project team to accomplish the project objectives and create the required deliverables. |
| Created: | 05/11/2014 |
| Last Modified: | 13/06/2018 |
| Link: | download Work Breakdown Structure Template |
---
More templates are waiting here for you: