You are on the Project Scope Management Plan download page.
To download the Project Scope Management Plan

and check your email account for the download link.
Thank you very much for your interest, visiting my website and downloading my template.
Please leave a comment with your improvement suggestions below, follow me on Facebook, LinkedIn or Twitter and don't forget to add the site to your favorite template download sites.
---
How to Manage Project Scope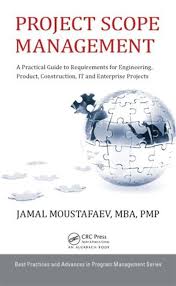 The definition is given above and the processes are listed, the question that arises now is how project scope is best and most effectively managed. Following my own experience as a contractor project manager, scope management is one in which many mistakes happen during the initiation phase of a project. This is a trap that is hard to come out of. By signing a contract, the contractor committed himself to deliver certain products and services within a time frame and at a certain price.
Jamal Moustafaev has described in his book Project Scope Management how project scope can best be managed.
AMAZON book description:
Incomplete or missed requirements, omissions, ambiguous product features, lack of user involvement, unrealistic customer expectations, and the proverbial scope creep can result in cost overruns, missed deadlines, poor product quality, and can very well ruin a project.

Project Scope Management: A Practical Guide to Requirements for Engineering, Product, Construction, IT and Enterprise Projects describes how to elicit, document, and manage requirements to control project scope creep. It also explains how to manage project stakeholders to minimize the risk of an ever-growing list of user requirements.
Apparently it seems to be quite common for certain recurring problems to occur, and it does not seem to matter in which part of the world the project is. I recently described some serious problems in one of my blog articles and scope management related problems are a serious issue.
Project Scope Management is a book written in good understandable language and is very helpful. If you are interested in avoiding such problems, I would absolutely recommend it to you.
---