Project HSSE Management Templates
Project HSSE Management includes all activities of the project sponsor/owner and the performing organization which determine safety policies, objectives and responsibilities so the project is planned and executed in a manner that prevents accidents which cause or have the potential to cause personal injury, fatalities or property damages. For convenience, the term safety management is used to include both, safety management and health management. (PMBOK® Guide)
Project HSSE management is not a common project management area, but an additional area in accordance with the construction extension.
The Processes of Project HSSE Management are:
(definitions by PMI®)
Plan HSSE Management

Plan HSSE management the process of developing a framework with its aim at providing a healthy, safe, and secure work environment to prevent harm to the people or damage to the environment.

HSSE Management Executing

HSSE management executing is the process of assuring the implementation of the various HSSE plans.

Monitor HSSE Performance

Monitor HSSE performance is the process of monitoring compliance with HSSE requirements.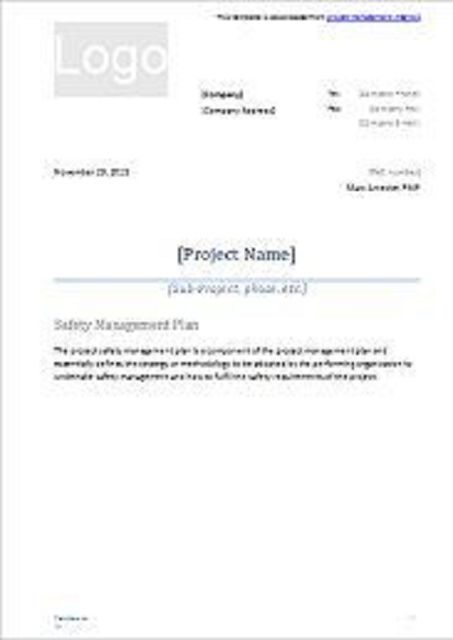 Safety Management Plan Template
Name:

Safety Management Plan Template

Prepared by:

Marc Arnecke, PMP

Subject:

The Project Safety Management Plan is a component of the Project Management Plan and essentially defines the strategy or methodology to be adopted by the performing organization to undertake safety management and how to fulfil the safety requirements of the project.

Created:

05/11/2014

Last Modified:

16/05/2015

Download File in .dotx Format (MS Word Template):

Download...

Download File in .docx Format:

Download...

Download File in .pdf Format:

Download...
Leave a comment...
Dear website visitor, I would be very pleased to receive your comment.
Please note that comments in a language other than English and comments off-topic will be removed.
Only 0-9, a-z, A-Z, .,!?@#%()+-= are allowed
---
Templates for free download
---
Social