Why to Use Forms and Templates
The usage and continuous improvement and development of templates and forms:
Rationalizes desk works,
Reduces incorrect or incomplete recording or dissemination of information,
Unifies documents,
Improves readability and makes it easier for the reader to find required information,
Supports the implementation of the idea of corporate identity,
Allows continuous improvement of processes, coordination, and flow of communication.
As much as possible my templates are based on the PMBOK Guide® standards and are developed during the planning stage of recent projects and reviewed and developed further during execution and project closing.
Templates are documents with typical content, but without many technical details of a completed and finished document. Using templates can save a lot of time and effort.
---
How to find Good Forms and Templates that Really Work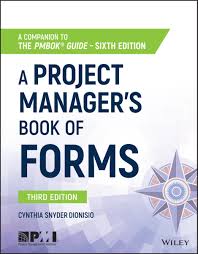 The internet is full of all sorts of useful and useless things, the problem is to separate the wheat from the chaff is not always easy.
My templates are based on my understanding of the PMBOK® and I am happy to time-by-time get some positive feedback. Nevertheless, if you are looking for a really good solution to the problem and are looking for forms and templates that are immediately applicable, cover all aspects of project management and really work, than I would recommend you to check out "A Project Manager's Book of Forms" by Cynthia Snyder Dionisio.
Instead of wasting time interpreting and translating the PMBOK® Guide to real-world application, allow PMI® to do the work for you: A Project Manager's Book of Forms – Third Edition provides the PMBOK®-aligned forms you need to quickly and easily implement project management concepts and practices.

Already the predecessor of the book was an absolute help for me. I bought the book and was extremely positive surprised what great help it has offered me.
A Project Manager's Book of Forms – Third Edition is not just another book about managing projects, it is rather a collection of forms and templates that allow you to work through almost all processes in the course of a project.
Although it is unlikely that nowadays anyone will remove the pages from the book to make entries by hand, but it would be possible. But even if you do not fill out the forms by hand, they still serve as fabulous templates that can be quickly and easily replicated on the laptop. Of all the books I've bought and read about project management over time – and they are many – A Project Manager's Book of Forms – Third Edition certainly had the most practical benefits.
---
---
Templates by Category
I strive to gradually add more templates. Please visit my website again occasionally.
All my templates can be downloaded from this website free.
Please click on the category that interests you:
You will be taken to pages starting with some general information about the specific management area such as definitions and processes and a download area further below.