You are on the Feasibility Estimation Sheet download page.
To download the Feasibility Estimation Sheet (EXCEL)

and check your email account for the download link.
Thank you very much for your interest, visiting my website and downloading my template.
Please leave a comment with your improvement suggestions below, follow me on Facebook, LinkedIn or Twitter and don't forget to add the site to your favorite template download sites.
---
How to do Feasibility Studies?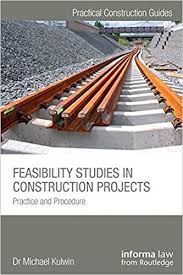 A feasibility estimate is used for determining the economic viability of a project, the probable sequence and cost for construction, and serves as a guide in the choice between alternative locations or plans. Since you are on this web page you are obviously interested in doing feasibility studies.
I therefore would like to recommend you the book Feasibility Studies in Construction Projects by Dr. Michael Kulwin on the subject.
Amazon book description:
Feasibility Studies in Construction Projects covers all aspects of feasibility study analysis including assumptions, the preparation of a feasibility study for submission, and the necessary elements to consider regarding the project cycle. The book also provides templates for use in preparing a feasibility study report.

The book offers the reader a step by step guide on how to prepare a feasibility study for a large infrastructure project, showing how problems can be presented in a way which does not prejudice the ultimate outcome of the project. It shows the reader how to identify the weaknesses of a project and make improvements, set assumptions, anticipate and prepare for various eventualities. It further shows how to test the sensitivity of the development as to changes in the original assumptions and business environment, convince prospective investors, venture capitalists, banks, management, stockholders, and government agencies of the relative value or prospects for success of the project. Finally the book explains the vital parts of a project development process and show how the pieces are assembled so they perform together to create a technical and economically feasible concept, thus evaluating the project's potential for success.

Offering the reader a step by step guide on how to prepare a feasibility study for a large infrastructure project, this book will be of great interest to engineers, architects, lenders, solicitors, construction project managers, lead developers, investors, governmental planning agencies, stakeholders, and construction bond underwriters as well as construction students.
---